World of Matter
Miami, Florida
1967-1974
Click here to go to link on the 2009 reunion of World of Matter and Hemlock, December 17th, 2009!
Thanks to Steve Argy and Bob Geiger for sending me some great pictures.
Dan
Click here to see what happened in November, 2006
---
Well, here's the story, sort of...My father, Glen (Bob) Hertlein loved sports. I'm sure as I was growing up, he had visions of me becoming interested in sports as he was. And I was terrible at it. The only broken bone I've ever had (except for some broken ribs I accumulated from mountain biking), was a pinky finger broken while attempting to catch a pop up fly in the fifth grade. Since I was an only child, I hooked up with a lot of friends. With no brothers or sisters to get in the way, I befriended a kid in my neighborhood named Howie Hamilton. Howie had been playing guitar since the age of seven. This was in 1964 I believe. He was probably the single most influential person in my life in getting me interested in music. (Howie has passed on. I will never forget him. RIP Howie!) The Beatles hit. The rest is history. I wanted to be just like the Beatles. Since guitar was already taken, and I loved watching Ringo on TV, I decided to play the drums. Since I didn't have any drums to bang on, I built a drum set out of Charlie Chips cans and a plastic garbage can.




Howie Hamilton and yours truly in 1962
I think my mom and dad sat me down and told me if I got good grades (I was as I understand it, a very well mannered child), and would take lessons at school, I would indeed get a drum set for my birthday/Christmas (same thing since I was born a week before 12/25). Boy did they keep their end of the bargain up! I got a brand new blue sparkle, a top of line Ludwig three piece drum set with a Paiste ride cymbal and Hi-Hats. The next year I would be entering the seventh grade and that is when I joined the school band. By the way, I'm not sure I kept my end of the bargain though. I'm not proud to say that I was a lousy student. I was even caught throwing away failed test papers. Some how, my parents found them. Yup, I was busted. But they loved me so I would continue my to develop my drumming skills. I would play to all the hit records. That is where I'm sure I picked up my ear for picking out drum parts.
Move up a year or two. I had to be in a band. I found some friends at school I think and we decided to put together a band.
That band would become the "Word of Matter", named after a seventh grade science book.

The pictures below help describe the journey of an incredible part of my life.
Where are we now? Click here to see where the World of Matter members are over 30 years later. (CAUTION: it might be scary!)
---
Click on thumbnail to expand


My dad's business card.

Click here to download an MP3 of World of Matter's only original recording, "No Such Thing"
Click here to download an MP3 of World of Matter's B side of No Such Thing, the cover song "What's Your Name"
This record was financed by my father in 1970. I think it cost $575! Lead singer's were Cookie Berrios and Randy Beach. On the "B" side, we recorded "What's Your Name" with Randy Beach and Dennis Sierra on lead vocals.
---
1967

Early 1967. The first version of the World of Matter playing at a Knights of Columbus dance in Hialeah, Florida. I'm directly behind Phil Rodriguez on guitar, Robert Rabel on vocals, Dennis Palez on guitar, George Carbonel on bass and not pictured, Tom Haley on organ. Dennis Palez actually named the band. For that fine deed, we let him go within a month or so. Ruthless, huh? It would not be the last time we would do something like that!

Here's Tom on organ. That's my dad's legs on the left, watching over his boys! Tom would be gone soon as well.

Me. In the red shirt of course. Dig that puffy shirt!
---
1968

Me playing with my blue sparkle Ludwig kit. Dig them pants!

My house. My parents gave up their carport and built us a practice room.


Bobby Whiteman, me, Glen (Bob) Hertlein, and Phil Rodriguez (Felipe!)




Early WoM picture with Robbie Rabel, Bobby Whiteman, Randy (Son of a) Beach, George Carbonel, Phil Rodriguez and me.


Even earlier picture of us playing at a Hialeah city park. Grand take for the gig $16!


I think this is another Knights of Columbus dance in Hialeah.


Same dance with Phil on guitar, Bobby on Farfisa organ, Randy on guitar, me on drums and George on bass guitar.

Randy, George, Phil, and me practicing in my living room. The practice room had not been finished.

I think this is George's cousin playing the cowbell ,Dennis Sierra, George, and me.


Glen Bob, my dad.


My back side at some party with those pants again


Me, Dennis, George, and Randy at the same gig.

---
1969





A publicity shoot of us at the Hialeah Race Track . We were getting older and growing our hair (those of us who were allowed to that is). By this time Phil was playing only percussion with Dennis playing lead guitar and Randy on rhythm guitar. For some reason our keyboard player is missing in action.



And another from the same shoot. I love this shot!



And more from is in a boat!


Dennis, George and Phil at the Burdines Fashion Show in November, 1969.

---
1970



Around February 1970, Cookie Berrios who was an excellent organist in the Warlocks, joined the band. It was an honor having him in the band. He, however would not play organ in the band because that was Bobby Whiteman's job. Cookie would be a lead singer with Randy. During this time, we wrote a song and my dad produced our first and only recording, "No Such Thing". Cookie and Randy sing a funky duet on the song (Download it in the link above). George Carbonel had decided to leave the band. He had joined the Air Force to avoid going to Vietnam. Where'd they send him? Thailand! We were all getting close to that fateful day of registering for the draft. Since George had not left yet, he was on the recording with us. Then on May 23rd, 1970, we were playing the 1970 Miami Springs High Prom. After the gig, Cookie and Dennis quit the band (to join up with the Warlocks) but would stay around to fulfill commitments to the summer. We were devastated.

WoM playing at the Hialeah Race Track in June, 1970 for a "freebie". It was for Operation Self-Help, a drug prevention center. We were backing up Peppie Fields and Tubby Boots.

Us playing around on top of our van at the beach.


Us playing out in front of Miami Springs High School, our high school. This would be the last gig that Dennis would be with us.



We picked up Earl Valentovic on guitar and Steve Argy on bass to replace George Carbonel and Dennis. Bobby Whiteman left our band to join the Queens Kids so we we added Kenny Combs on keyboards. We also hired Mike Holland on lead vocals. Essentially, because Dennis who played lead guitar and sang lead vocals, we needed to hire two people to replace Dennis. The girl with the casts on her legs is Lisa. She was George's girlfriend. That's my mom and dad in the second picture.

I think this is right before George left.

Then in August, for some reason, Dennis decided he wanted to leave the Warlocks and come back. Dennis was part of our family, so unfortunately for Earl, it was a no brainier for us. Steve decided to leave the band with Earl (who we fired to get Dennis back). We were not being fair to Earl and Steve felt a loyalty to Earl. We were sorry to see Steve leave.




We hired Morgan Rees on bass to replace Steve Argy. Line up in this picture is Kenny Combs, me, Randy Beach, Phil Rodriguez, Mike Holland, Dennis Sierra and Morgan Rees.



Dennis and Mike (I think this was at Milander Auditorium in Hialeah.)


Good shot of Phil playing his congas.


Morgan. He was only bass player in the area that I knew of that had a Marshall stack for his bass rig! Great bass player but we really missed Steve!



Me


Dennis.


Kenny Combs


Randy Beach



Last two pictures of us in this line up
---
1971

Even though Morgan was one the baddest bass players around, his stay with the band was short lived. We really missed Steve so, somehow, we convinced him to return on bass. Also Mike Holland had departed. This is the first shot of me playing double bass drums. I'm not really sure how much double bass playing I did. It looked cool, that's for sure.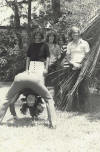 Uh oh, our hair is getting longer!

Kenny's hair is getting so long!


Us at Miami Beach Kennel Club at South Beach.

Ad for the Open Hearth in West Palm Beach. In the picture from left to right is me, Dennis, Mike Holland, Robert Duarte, Steve Argy, and Kenny Combs.


---
1972-1974

The Button on the beach in Ft. Lauderdale. How we loved the Button! Kenny Combs and Phil would soon be gone. We added Robert Duarte on sax, percussion and vocals. In this picture, the line up is Kenny, Robert, Phil, Dennis, Crazy Gregg from the Button. Steve Argy is right outside the shot on the right.





The band in it's last incarnation. In the picture on the right, the line up is Dennis Sierra (guitar/vocals), Steve Argy (bass/vocals), Robert Duarte (sax/percussion/vocals), me, and Bobby Geiger (keyboards/sax)



Bobby Geiger and Dennis playing in the band Newborn (actually, this shot is after WoM disbanded, but I included the picture because it's a great shot). When Bob Geiger gave this picture, I knew it wasn't me playing. I don't remember having such crappy drums and cymbals.



Me doing I don't know what on the road. We were in Kentucky and then Indiana and had many days and hours of absolute boredom. All we could do was rehearse if the clubs would let us. I must say, my recollection is that the band was musically the best we had ever been. We were playing "Roundabout" by Yes and sounding quite good at it. Bobby Geiger was a great soloist! Smoked a mean Swisher Sweet also!

Me doing I don't know what.



Dennis, me, and Robert. Whose trumpet was that? Nobody played trumpet!




Steve Argy and me doing I don't know what!


Robert sounding great. Steve was always a great bass player and still is to this day! I was playing a clear Fibes kit on the road then.



Me



Dennis
Bobby Geiger
---
Thanks for looking. If you'd like feel free to email me at danhertlein@comcast.net
Dan Hertlein