Reunion
December 17th, 2009
---
We had a great time getting together in Pembroke Pines, Florida at George and Launa Carbonel's coffee shop, The Coffee Scene. Since this was actually the second annual gathering, we sort of knew what to expect. I began planning for the gig in August, contacting everyone I could contact. Dennis Sierra , Steve Argy and myself began formulating a list with input from Randy and George. Instead of me shipping one of my many drumsets to Florida from my home in the San Francisco Bay Area, I decided to buy a complete drumset. Any excuse I have to buy drums and I am so there! I worked with George who arranged the logistics, equipment, publicity and overall excitement that he and his lovely wife Launa always permeate. It was going to be a kick once again. This time I would bring two video camera's and my trusty digital recorder. Unfortunately because of a power outage during Hemlock's set, all video was lost. However, at the bottom this page, you will find MP3's of the evenings set. No excuses so keep in mind, we did not rehearse. Since Dennis, Steve, Cookie and I are working musicians (forgive me if I've forgotten anyone else), we all relearned (or learned songs we had not done as a band) our set list, including the one and only World of Matter record (a 45 non the less), recorded in 1970, No Such Thing on the A side and What's Your Name on the B side.
Sure, sometimes it sounded unpolished and out of tune but we had a great time. The rain was threatening (for the second year in a row), but held off on our encore, Funky Music White Boy. No harm. That record came out 10 years after World of Matter had dissolved.
So, the song list with links to the songs will be below the member list. To save the song to your computer, right click on the link and choose Save Link As. Any media player should open the song. Under that you'll find small pictures. To expand the pictures, click on them once.
Also, videos of each song have been uploaded to YouTube. Click here to view them!
Below is a list of former members and their whereabouts and if they would be attending;
Glen (Bob) Hertlein - Manager and Mentor and Dad - WMIIHLDOI (Wouldn't Miss It If His Life Depended On It)


Dennis Sierra - Guitar & Vocals - Ditto


Dan(ny) Hertlein - Drums - Ditto


Steve Argy - Bass & Vocals - Ditto


Felipe Rodriguez - Percussion - Ditto

George Carbonel - Vocals/Percussion - Hey, it is his place of business


Randy Beach - Vocals - Ditto and it was great seeing Randy after all these years!


Robert Duarte - Sax - Ditto


Earl Valentovic - Guitar - Ditto


Cookie Berrios - Keyboards - Ditto and what a surprise!


Honorary member's for the evening include;
Gene Rivera (from the band Hemlock) - Keyboards


Fermin Goytisolo (from KC & The Sunshine Band) - Percussion


Jonathan Gonzalez - (Randy's Son) - Guitar


Paul Sockas - Keyboards on Black Magic Woman/Oye Como Va - Sorry, picture of Paul
Rali Guanche - Bongos on Soul Sacrifice - or Rali, but we heard you! ;-)
and missing in action but not forgotten...
Kenny Combs - Keyboards - Home in Atlanta
Morgan Reese - Bass - Home in San Jose
Bob Geiger - Keyboards - MAW - (Missing At Work)
Bobby Whiteman - Keyboards - No one knows. Hopefully he's OK
Mike Holland - Vocals - No One Knows
---
Set List and Audio Files (click on the link to play or download)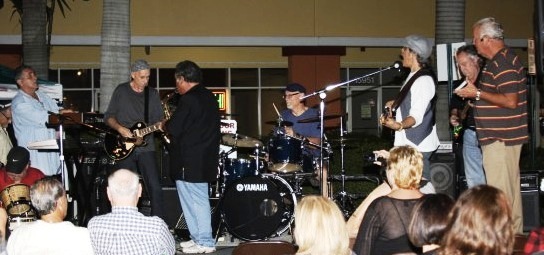 I Feel Good - George - Lead Vocals
Feeling Alright - Dennis - Lead Vocals
Mustang Sally - George/Randy - Vocals
Beginnings - Dennis - Lead Vocals
LaGrange - Steve - Lead Vocals
Low Rider - Steve - Lead Vocals
What's Your Name - Randy/Dennis - Vocals
No Such Thing - Randy/Cookie - Vocals - World Of Matter's only recorded original
Black Magic Woman/Oye Como Va - George/Dennis - Vocals
Evil Ways - Randy/George - Vocals
---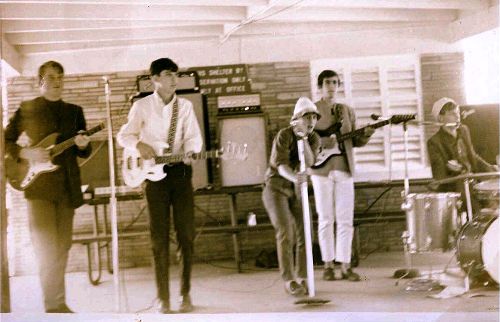 World of Matter in 1967


World of Matter in 1971
---
Word of Matter, circa 2009!
Click on the picture to expand!
Thanks for looking. If you'd like feel free to email me at dan@danhertlein.com
Dan Hertlein